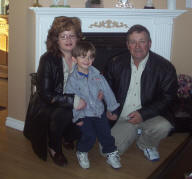 About the Artist
Custom framing and mould making since 1995!
Artist, sculptor and lifecaster Diane Rossong originally from Kelowna, BC started "A Lasting Impression"
in Calgary in 2002.
Creating her own technique of baby impressions was very typical of Diane.
Being an artist and selling her paintings for over 10 years, she had worked with many mediums
including acrylics, oils, pastels and creating plaster castings using different mediums such as silicone and latex rubber.
Being a custom framer combined with this beautiful art of Lifecasting has made everything fit together perfectly.
It was then the only natural thing to do when the time came up to think about what to do after her maternity leave.
By this time Diane had already created many babies hand and foot castings for her friends using her unique technique.
Then After starting up "A Lasting Impression",
She moved on to other types of lifecasting over the years with alginate, different clays, silicone, plastics, pottery and metal cold casting was to follow
and be able persevere in the beautiful art of alginate Lifecasting.
In only a few years "A Lasting Impression" has managed to thrive into a great home business
where she can work with children and express her artistic self in a wonderful way.
To Learn more about the art of Lifecasting visit
The Association of Lifeecasters International
Please feel free to email Diane with any questions.
403-230-3134